Fri

17

Feb

2012

Tuesday, 21 February 2012 21:07
Shane Laffy, 56, is a 35 year veteran of the music industry having performed with bands such as 'Rumble', '20 Flight Rock', and 'Man Friday'. He has spent the past decade working in community television in Victoria.
Shane also has hepatitis C and in 2004 had a liver transplant to replace his failing liver. He is now using his new found liver to enjoy life by living a much healthier lifestyle.
In addition to his music, Shane is very committed to raising awareness about hepatitis C and the need for more Australians to sign up to organ donation.
Shane has teamed up with Paul Stewart, from the Painters and Dockers, and others to form a new band called 'The Transplants'.
The Transplants will be performing at a free concert this Sunday, the 19th of February, at the Caravan Club in Oakleigh to mark Donate Life Week.
For more information on the concert, get the poster. See a performance of the Transplants at the 2009 World Hepatitis Day.
Fri

17

Feb

2012

Tuesday, 21 February 2012 21:07
A new study has found that administering vitamin D to hepatitis C patients dramatically reduces the presence of the virus in the blood.
The study, carried out at Rebecca Sieff Hospital in Safed and Hillel Yaffeh Medical Center in Hadera by Dr. Assy Nimer and Dr. Saif Abu-Mouch covered 90 hepatitis C patients.
The findings were presented in late November at a conference of the American Association for the Study of Liver Diseases.
For six months, in addition to the standard treatment, which included Interferon once a week and a daily dose of the antiviral drug Ribavirin, 30 patients were also treated with 1,000 units of vitamin D a day. A control group of 60 patients went without the vitamin.
In order to assess the impact of vitamin D on the treatment of the disease, before starting the study, all patients, including those from the control group and those who were found to have a vitamin D deficiency, were given supplements, so that all participants began the study from the same point.
Fri

17

Feb

2012

Tuesday, 21 February 2012 21:07
Published:
20 January 2012
The addition of the protease inhibitors telaprevir or boceprevir to hepatitis C treatment regimens increases the risk of anaemia, according to a review article published in Liver International. The author also found that telaprevir treatment was associated with an increased risk of rash and itching as well as some anorectal symptoms.
However, these side-effects were generally mild and could be managed without the need to discontinue therapy.
Telaprevir (Incivek/Incivo) and boceprevir (Victrelis) were recently approved for the treatment of hepatitis C genotype-1 monoinfection in combination with pegylated interferon and ribavirin.
Clinical trials showed that taking either of these drugs in combination with pegylated interferon and ribavirin improved rates of sustained virological response compared to therapy with pegylated interferon and ribavirin alone.
The same studies also showed that the addition of these drugs also increased the risk of a number of side-effects such as itchy skin, rash, neutropenia, anaemia, and gastrointestinal disorders such as nausea, diarrhoea and anorectal symptoms.
Side-effects can affect adherence to therapy or lead to its premature discontinuation. An understanding of their severity and management is essential to the optimum management of patients taking hepatitis C therapy in routine clinical care. 
Sun

12

Feb

2012

Tuesday, 21 February 2012 21:07
SVR Achieved With Two Direct-acting Antivirals in Absence of Interferon in Small Study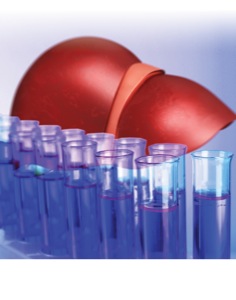 A combination therapy including two investigational direct-acting antiviral agents (DAAs)—asunaprevir and daclatasvir—suppressed hepatitis C virus (HCV) genotype 1 infection in a majority of patients who had previously not responded to treatment, according to results from a small Phase II study published in the Jan. 19 issue of The New England Journal of Medicine (Lok AS et al. 2012;366:216-224).
Success rates were 100% in patients who received the drugs in combination with peginterferon alfa-2a (Peg-IFN) and ribavirin (RBV).
And, most notably, even in patients who received daclatasvir and asunaprevir without Peg-IFN and RBV, sustained virologic response (SVR) was achieved in 36% of patients, making this the first published study to show that SVR can be achieved with an IFN-free treatment in previous null responders.
"The response in some patients to the combination of daclatasvir and asunaprevir alone showed proof-of-concept that a sustained virologic response can be achieved without peginterferon and ribavirin therapy," concluded the research team, led by Anna S. Lok, MD, professor of internal medicine in the Division of Gastroenterology, University of Michigan Medical School, Ann Arbor.
In an editorial accompanying the study, Raymond T. Chung, MD, director of hepatology and medical director of the liver transplant program at Massachusetts General Hospital, Boston, called the study a "watershed moment in the annals of HCV therapy.
"It shows that sustained virologic response can be achieved without interferon. Implicit in this finding is the concept that two potent agents with complementary resistance profiles, given for a sufficient duration, can impose a stranglehold on viral replication and result in clearance of the virus."
Sun

12

Feb

2012

Tuesday, 21 February 2012 21:07
A recently developed treatment for the most common form of hepatitis C has been approved for use in Australia by the Therapeutic Goods Administration (TGA).
Victrelis, also known as boceprevir, comes from a group of drugs known as a protease inhibitors.
Scientists say it is an effective way to fight hepatitis C, genotype 1.
The director of the AW Morrow Gastroenterology and Liver Centre in Sydney, Professor Geoff McCaughan, says people who suffer from this strand of hepatitis C now have their first new treatment option in a decade.
"In the last ten years there has been little development in the availability of treatments for hepatitis C and a significant proportion of patients fail to respond to current standard of care." Professor McCaughan said in a statement.
"Victrelis is an approved treatment that works directly on the hepatitis C virus and prevents it from replicating and therefore reproducing."
He said this was a big step forward in the battle against hepatitis C, genotype 1.